Market correction and what it will take to recover
In today's ever-changing markets investors are turning more and more to less volatile places to put their retirement.
With the markets daily volatility many do not know what is safe and where to invest. Some investors have been holding there assets and riding the high of the 11-year bull market.
What many fail to take into consideration is market corrections. The market is due for a correction. What does this mean for the traditional investor who purchases positions in the market in order NOT to take a loss they have to hold onto their investments and hope for the turnaround phase?
The graph below shows and average 1-year loss from 10% to 50% and what it would take to rebound at a break-even point and not take a loss.
IS TIME ON YOUR SIDE THE WAY YOUR PORTFOLIO IS CURRENTLY POSITIONED?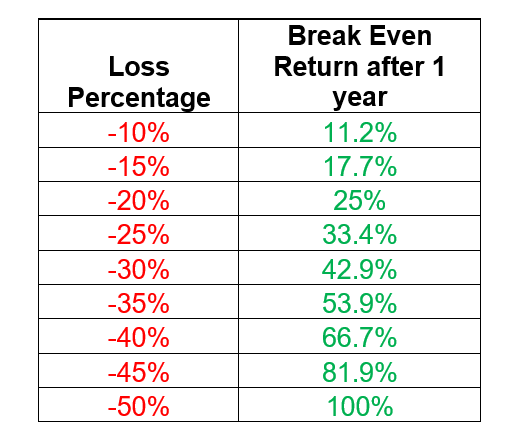 The Fed lowering interest rates for the second time this year means the places where a lot of investors are parking there money such as CD's and money markets will not have their money working for them and earning potential is very limited. At the same time Fed lowers interest rates money market rates & CD rates will be lowered as well.
With a looming election year upon us the steps you take NOW could impact the future growth of your portfolio
Inflation is still expected to grow and your dollars won't be working for you if not invested in the proper vehicles to earn you growth with protection of principal.
This is where Classie Insurance & Investments can help you call today for a FREE consultation or attend a seminar and learn your options.